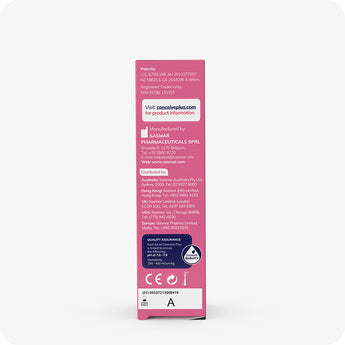 Trial Size Bundle - Fertility Lubricant
1 fl.oz Tube & 3x 4g Applicators
Powerful Fertility Support in a Petite Sized Trial Pack
Find out why millions have made Conceive Plus their go-to brand when trying for a baby!

Fertility Lubricant 1 fl.oz Tube with 3x 4g Pre-Filled Fertility Lubricant Applicators.

Conceive Plus is a leading fertility lubricant brand, spanning across 60+ countries, and recommended by doctors, fertility clinics and pharmacists. This trial pack is a great way for couples to explore the two forms of fertility lubricants we offer (pre-filled applicators and the multi-use tube).

When couples use Conceive Plus, the odds of getting pregnant are greatly enhanced due to the balanced pH and osmolality, key ions needed for improved cell viability, and vaginal moisturizing properties.

Includes:
✅ 1 x Conceive Plus 1 Ounce Tube
✅ 1 x Conceive Plus 3x Pre-Filled Applicators

✅ Supports Natural Fertility
✅ Trusted by Doctors, Pharmacists, Fertility Clinics Worldwide
✅ Optimal pH for Sperm Migration & Survival
✅ Calcium + Magnesium Ions for Enhanced Sperm Viability
✅ Matches Fertile Cervical Mucus
✅ Easy-to-use flip-top Tube
✅ Safe for Oocytes and Embryo Development
✅ Mimics the Body's Natural Fertile Fluids
✅ For Use by All Couples (Even with PCOS, Irregular Ovulation, Hormones, etc.)


Conceive Plus 1fl.oz Tube:
Apply a teaspoon size amount prior to intercourse and re-apply as required during. For use by both him and her. Safe for daily use. Conceive Plus® Multi-use Tube may be used in conjunction with Conceive Plus® Pre-filled Applicators for intra-vaginal application.

Conceive Plus 3x Pre-Filled Applicators
Remove applicator from box, do not use if tamper evident tab is broken. Hold applicator narrow end facing upwards, twist off the tab and discard. Gently insert the narrow end of the applicator deep into the vagina and squeeze the bulb end 2-3 times to deposit Conceive Plus® into the vaginal cavity.

Remove while continuing to squeeze the bulb end and discard. Each applicator is for single use only and cannot be stored after opening or reused. May be applied 10-15 minutes prior to sexual activity to allow moisture to disperse throughout the vagina. Each applicator contains 4 grams of Conceive Plus®. We suggest using Conceive Plus® multi-use tube if additional moisture is required or use another applicator. Conceive Plus® Multi-use Tube may be used in conjunction with Conceive Plus® Pre-filled Applicators for intra-vaginal application.

Cautions:
Not a contraceptive. Conceive Plus does not harm sperm or interfere with sperm function. Conceive Plus is pH and electrolyte balanced to imitate the body's own natural fluids when applied intra-vaginally.

DEIONIZED WATER, HYPROMELLOSE, SODIUM CLORIDE, GLYCEROL, SODIUM PHOSPHATE, DISODIUM PHOSPHATE, METHYLPARABEN, POTASSIUM CLORIDE, MAGNESIUM CHLORIDE, CALCIUM CLORIDE.
Fast Shipping

Delivered within 2-3 business days for $5 and free shipping on orders over $50.
Questions?

Email us at help@conceiveplus.com and we will be happy to help you.
Total 5 star reviews: 1.4k
Total 4 star reviews: 241
Total 3 star reviews: 106
Total 2 star reviews: 6
Total 1 star reviews: 1
93%
would recommend these products
Reviewing

Fertility Lubricant Applicators

1 Pack

Brilliant

Very easy to use! Can't give 5 as not long enough since using to see what's happened if they have worked!

Reviewing

Maximum Fertility Bundle

Fertility Bundle

My husband and I had been taking this for 3 month; we just started with the lubricant last month!! Hopefully we'll be able to conceive sooooon!!

Jerilyn P.

Verified Buyer

Reviewing

Fertility Lubricant Applicators

1 Pack

Love it

It couldn't ask for a simple application than Conceive Plus! It is a perfectly fitting for special moments on the go!

Reviewing

TRIAL SIZE Fertility Lubricant Applicators

Amazing product

Product came quickly; I can't fault it.

Reviewing

Trial Size Bundle - Fertility Lubricant

Amazing!

Been trying for 2 months then thought I'd use this because why not?? Got pregnant the month of using it! Now 4 weeks pregnant 😭

Danielle M.

Verified Buyer

Reviewing

Women's Combo Bundle

Great product

Just started product and crossing fingers it works!

Reviewing

TRIAL SIZE Fertility Lubricant Applicators

Lube

Really good lube easy to apply used before and worked with both my kid's now trying again

Kimberly W.

Verified Buyer

Reviewing

Women's Combo Bundle

Reviewing

Fertility Lubricant Tube

Great!

Arrived quickly & efficiently! Very happy with my purchase!

Reviewing

TRIAL SIZE Fertility Lubricant Applicators

Perfect for travel

Really handy to take away and easy to apply yourself to ensure fully lubricated.

Would recommend.
Reviews Loaded
Reviews Added
Commonly Asked Questions
How long does shipping take?

98% of orders are processed and shipped the same day for a flat rate of $5 or free shipping on orders over $50.

We use premium carriers including USPS, Fedex, and UPS for delivery in 2-3 business days and Expedited is 1-2 business days.

International shipping is fast too, in most cases your order will be delivered within 5 business days.
Should I order on Subscribe & Save?

Some products are available on subscription. Many couples love our Subscribe & Save service to receive their orders each month automatically. Save money and enjoy free shipping too. You can cancel anytime, it's easy within your account. To order without a subscription, choose "One-Time Purchase".
Can I cancel my subscription?

Skip, Swap or Cancel your Subscribe & Save subscription anytime. You can do this within your account, it's very easy and you have full control.
What are your quality standards?

Conceive Plus is a global brand, with global quality standards. All products have been third-party tested to ensure they meet or exceed superior quality standards in accordance with: ISO 13485, ISO 9001. Our manufacturing facilities are FDA registered and inspected to cGMP standards, exceeding FDA 21 CFR Part 111 regulations.
How long does it take to work?

We suggest taking Conceive Plus fertility supplements for at least 8 weeks to allow the ingredients to achieve their full effect. Individual results vary, remember getting pregnant is a journey.
Can I take Ovulation and Fertility Support together?

Conceive Plus Ovulation Support and Conceive Plus Fertility Support are formulated to be taken together. Take each supplement as suggested daily with a full glass of water. The combination of these two fertility supplements for women help regulate cycles even with PCOS.
What are the side effects of Conceive Plus?

Conceive Plus fertility supplements are formulated to provide the body with vitamins and nutrients proven to benefit fertility. Everyone is different so it is important to read the facts panel and only take as per the suggested use. Iron, calcium, iodine, and other minerals in fertility vitamins can sometimes cause side effects including: hives, urinating more often, upset stomach, bloating, gas, stomach cramps. Conceive Plus Fertility Support does NOT contain Vitamin A which is often associated with side affects on skin and hair.
Has this worked for others?

Conceive Plus is a global brand used by couples in more than 70 countries.
How do I use Conceive Plus?

All Conceive Plus products include instructions and directions for use on the label. Conceive Plus is designed for use by all couples trying to get pregnant, they are fun and easy to use!